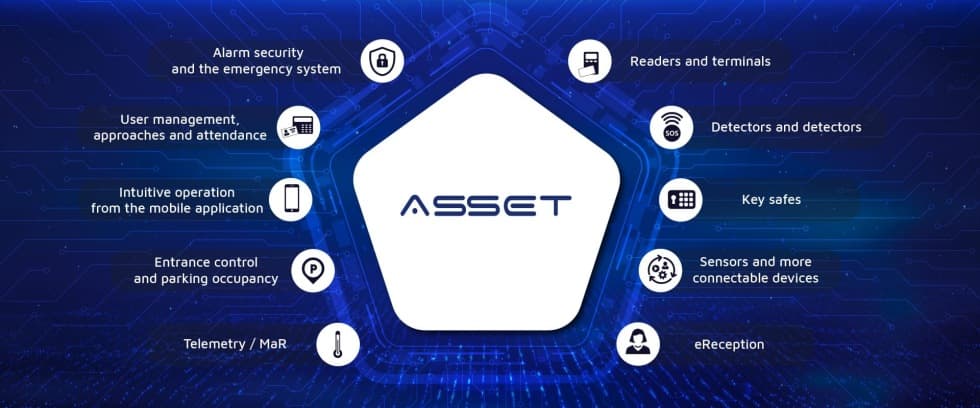 Integrated Security System

ASSET
The ASSET system is a combination of SW and HW solutions that allow you to solve security and monitor a building or premises (I&HAS Alarm system) with a single product. It can establish access only to authorized persons (ACS), control lighting, air conditioning, and connection to sensors (MaR), monitor and control availability of parking lots, and much more.
Thanks to its robustness and scalability, it is suitable for buildings and facilities of any size.
The ASSET system can be used both for a small shop and for sophisticated complexes consisting of several buildings without limiting the distance between them.
The ASSET system can be operated independently on its Readers and Control Panels or as part of a security solution connected to the MARC - Surveillance and Alarm Receiving Centers. It can also be integrated with many third-party products (attendance, eReception, other security solutions, hotel reservation system, etc.).
Key Features of the ASSET Platform
• Modular system without limiting the number of devices
• Possibility of redundant operation (99,99% uptime)
• Remote administration and maintenance of systems
• Possibility of integration with third-party products
• Integration of VSS (CCTV) video systems
• User and card management
• Attendance records
• Control of lights, temperature, etc.
• Security Alarm
• Entrance and parking space occupancy control
Properties of ASSET Readers
The functions and behavior of the reader can be programmed according to the customer's needs.

Encrypted communication and proprietary card encryption technology

NFC and Bluetooth support

OSDP communication protocol

Indoor and outdoor use

Remote configuration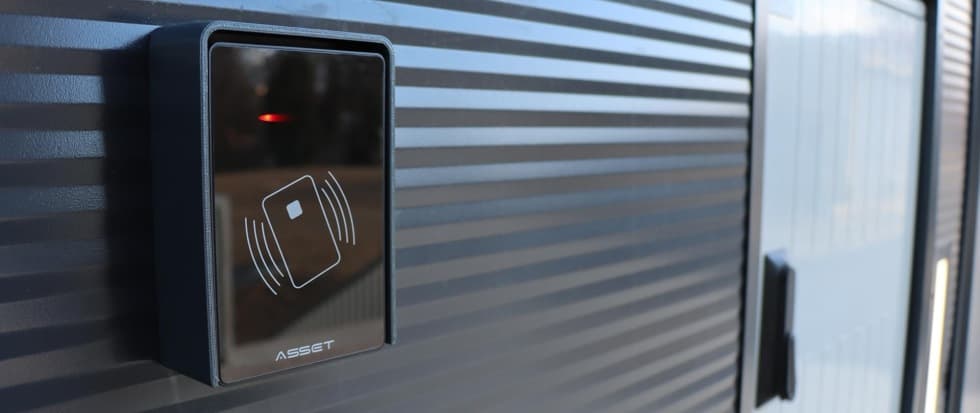 ASSET Control Panels and Keyboards
ASSET control panels and keyboards extend the functionality of the ASSET system and bring simple and full-fledged control of the entire system.
They are characterized by their reliability, easy maintenance, and a wide range of supported card formats at the frequency of 125 kHz and 13.56 MHz.
The control panel can be used to enter attendance or control the activities of the ASSET system.
Properties of ASSET Control Panels and Keyboards
Integrated ASSET reader

Control and configuration of the entire system

Alarm clearance

Creating new and editing existing users

Choice of color design